Considering a skydive?
Imagine standing at the edge of an open doorway in an aircraft flying at 10,000 feet. Now imagine leaning forward out of that doorway and letting go – falling forward into the clouds, diving down through the air as you start freefalling at over 120mph! Imagine being able to do this for free whilst harnessed to a professional freefall parachute instructor all while helping Retina UK! Stop imagining, it's real and it's happening all the time and you can be part of it…
What does the jump involve?
The jump is a tandem skydive and is organised by a company called Skyline. It is a skydive because you will be freefalling through the air (without the parachute deployed) for several thousand feet; it is in tandem because you will be harnessed to a professional parachute instructor at all times throughout the descent. Both the jump and training are completed in one day and your instructor will be in control of your landing.
All skydivers are required to complete a medical form before their jump. This form will help to identify whether you need to speak to a suitably qualified healthcare professional before taking part. We also advise that should you have any concerns or questions relating to your health and taking on a skydive that you should seek expert advice before registering.
How do I qualify for a free jump?
To take on an exhilarating parachute jump for free*, you'll need to raise £395 (or more!) for Retina UK by asking your friends and colleagues to sponsor you. Please do not be put off by this amount – if you ask everybody you know to sponsor you, you will find you can quite easily raise this and we're here to help you with your fundraising too!
What do I do next?
Simply book online by clicking the link below. A member of our team will be in touch with help and support for your fundraising and to get your all-important Retina UK t-shirt to you! After that, all you have to do is make an exhilarating tandem skydive from 10,000 feet!
A tandem parachute jump is suitable for sighted, visually impaired and blind people alike. If you have any accessibility questions please contact Skyline at info@skylineevents.co.uk who will be able to raise your query directly with your chosen airfield.
---
*A £70 deposit is required to register for your jump, but this can be recouped from your offline fundraising.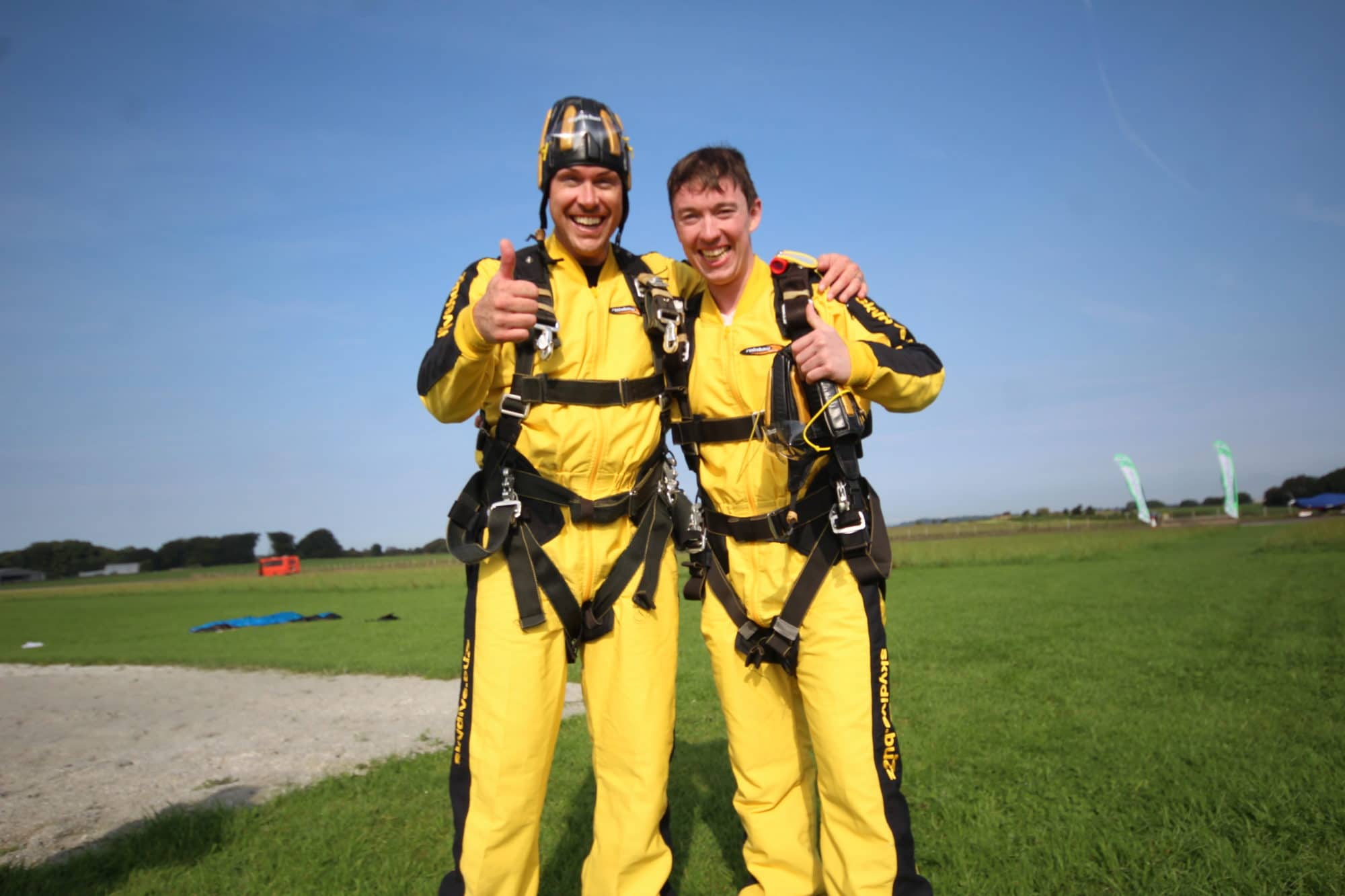 "It has always been an ambition of mine to skydive and to actually finally do it was absolutely incredible."