Charity of the year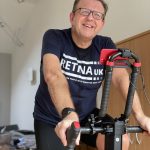 Choosing Retina UK as your charity of the year enables us to work closely with you to identify your charitable objectives, leading to the creation of a bespoke fundraising programme. Our focus will be on the delivery of our mutual goals, working hard throughout the partnership to ensure they are met.
Barnsley-based glazing company, Euroglaze, selected Retina UK as their charity of the year to celebrate their 40th anniversary.
Managing Director, Martin Nettleton (pictured right), set his entire team a £10,000 fundraising target in support of Retina UK. They have held various fundraising events, including a virtual 1,000km cycle challenge.
Corporate sponsorship
Becoming a corporate sponsor is a great way to promote your brand. Our Annual Conferences and Information Days are attended by many members of our community, their carers and families. Due to the Covid-19 pandemic, our conferences were held online in 2021, resulting in a 15% increase in professionals' attendance. We plan to build on this growth with hybrid conferences in 2022.
Payroll giving
Payroll Giving is an effortless, flexible, and tax-effective way of supporting a charity through your salary or pension.
Donations are tax-effective because they are taken before tax is applied, which means the charity gets more of your donation and it costs you less.
Example: £1 would cost you
80p if you are a standard taxpayer
60p if you're a higher rate taxpayer*
*The only way higher taxpayers can automatically, pass their tax to charity is through a Payroll Giving scheme.
Benefits of donating to Retina UK through Payroll Giving
Easy to set up
Effortless, your donation is automatically taken from your gross income each month
Satisfaction from knowing you are making a difference every month, with reliable support that helps Retina UK to plan
How to donate
Ask your employer or pension provider if they run a Payroll Giving scheme
Some employers extend their Payroll Giving scheme to retired employees, providing the opportunity to continue tax – efficient donations from monthly pension income
What if I change my mind or change my job?
Simply tell your HR or payroll department that you want to stop making donations through your wages or pension
If you change jobs, your Payroll Giving scheme will stop automatically. You could ask your new employer if they have a scheme and join their scheme if you wish.
If you would like to discuss Payroll Giving in more detail, please contact our friendly fundraising team on 01280 815900 or email fundraising@RetinaUK.org.uk.
Supporting us with gifts in kind
Donating some of your time and business skills to help us in our work can be hugely beneficial. For example, in 2018 our partners at Network Rail supported our team with the early stages of our rebranding process. Donations of physical items are also welcome, including prizes and experiences for our annual raffle.
Employee fundraising
We have lots of ideas to engage your employees and can support with ideas and fundraising materials. We also often have places in high-profile events such as the London Marathon and Great North Run, for those looking for a challenge!
---
For more information about any of these opportunities, please contact our friendly fundraising team on 01280 815900, or email fundraising@RetinaUK.org.uk.