Inherited retinal conditions lead to the loss of retinal rods and cones. However, the ganglion cells and optic nerve, which send visual signals to the brain, remain intact. This means that if artificial cones and rods are developed (retinal prosthesis), information could still be sent to the brain for interpretation.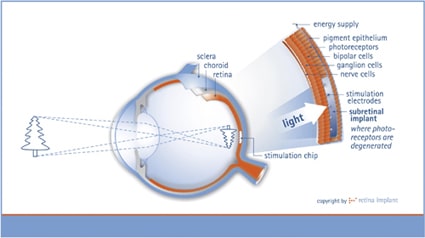 There are currently at least four microchip devices that are being developed and have been implanted in human eyes.
These microchips will electronically signal the remaining retinal cells which pass the signal down the optic nerve for final processing as a visual image in the brain. Devices are also being investigated that stimulate the optic nerve or brain directly rather than the retina.
Multiple research centres around the world are conducting tests on different versions of a retinal prosthesis and are continuously developing improved devices.
While retinal prosthesis devices are now approved for use, they are only available privately and are only recommended for people who have minimal sight remaining. They may enable sufficient sight to make out the edge of a table or a doorway, but cannot restore the ability to perform daily activities such as reading or watching TV.