There have been a number of significant advances in photoreceptor replacement therapy in the last decade. In 2006, UK researchers at UCL Institute of Ophthalmology identified a critical stage of development at which immature retinal cells can be transplanted successfully into the retinas of mice with retinitis pigmentosa.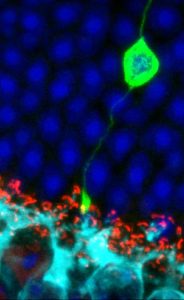 More recently (2013), the same team at UCL Institute of Ophthalmology provided the first evidence that these transplanted cells make connections with the retina into which they are placed and moreover are capable of restoring vision in a mouse model of stationary night blindness (See video below).
An important question is whether different types of RP are equally amenable to cell therapy and whether it is possible to treat very advanced degeneration. In a Retina UK-funded study, researchers at UCL demonstrated that it is possible to achieve effective levels of transplantation into a number of models of RP, including those undergoing rapid and severe degeneration. These results show that cell transplantation could potentially benefit many patients with various diseases that have different genetic causes. However, it may still be necessary to manipulate the host retina to improve transplant success.
An important finding from the work published in 2006 was that the donor cells have to be at a very specific stage in development at the time they are transplanted. They need to be photoreceptor 'precursor cells'. These can be thought of as 'baby' photoreceptors. They are destined to become photoreceptors but have yet to fully mature. If cells are put in when they are either too mature or immature they cannot make the new connections required to restore vision. The equivalent stage in human development occurs during the second trimester of development in the womb and so makes finding a direct source of precursor cells very unlikely. However, it does mean that scientists now know what they need to do to stem cells in order to get a transplantable source of donor cells – they need to make 'baby' photoreceptors in the laboratory. This has been achieved very recently at UCL Institute of Ophthalmology using mouse embryonic stem cells that were grown in a 3D culture system to form immature retina. By using markers to specifically identify the photoreceptor precursors, the researchers were able to take the precursor cells and transplant them into mouse models of RP.