Southampton researchers embark on clinical trial for Stargardt disease
Posted on: Wednesday 3 July 2019
---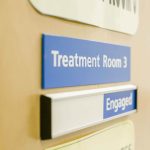 Researchers in Southampton are recruiting people living with Stargardt disease for the clinical trial of a new drug called Remofuscin that could limit the sight loss associated with this condition.
Supported by around £5 million of EU funding, Professor Andrew Lotery at University Hospital Southampton is leading the trial alongside colleagues at clinics in Germany, Italy and the Netherlands.
Stargardt disease principally affects central vision, with onset usually occurring during adolescence or young adulthood, and is frequently caused by errors in a gene known as ABCA4. It is currently untreatable, but previous research has demonstrated that Remofuscin is capable of decreasing levels of a harmful substance called lipofuscin that builds up in retinal cells affected by the condition. Scientists believe that reducing lipofuscin could stop further damage to the retina and limit sight loss.
The clinical trial will last for up to 14 months, with participants being expected to visit the study hospital at Southampton at least 11 times. They will also need to meet a number of strict criteria to be eligible to take part, including having a confirmed genetic test report showing at least two mutations in ABCA4; the genetic test cannot be carried out as part of the study. Participants will also need to have experienced documented onset of the disease before the age of 45 and be able to read at least one line of a vision chart.
For more information on taking part, including further eligibility criteria, please contact the Ophthalmology Research Team at Southampton General Hospital at EyeResearch@uhs.nhs.uk quoting 'Stargardt's study'.