Mark Baxter
My Iceland 2016 story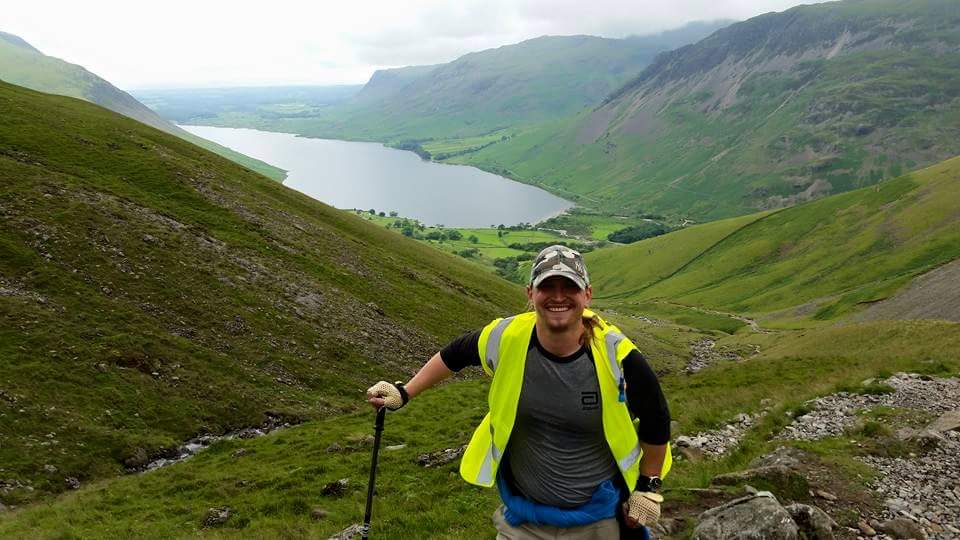 I bring you my story from the Land of the Midnight Sun.
A challenge for our charity but not a skydive, bike ride or run.
A flight to Iceland is the start of this courageous tale.
A team of brave souls will embark on a journey across the Laugavegur Trail.
We all meet at Heathrow a bunch of old and new faces.
From all over the UK, different towns and far away places.
Half sighted and half with different levels of vision.
All share one thing in common to complete this mission.
Our plane lands at Reykjavik after a three hour flight.
All bags claimed we all pile on our coach and head to our hotel for the night.
We pull up to Hotel Gardur after a comfortable drive.
Welcome to Iceland…the RPFB trekkers arrive.
All checked in with plenty of time to sort out my kit and freshen up before our first meeting.
We gather together and chat about whats to come, a get to know each other talk and bit of a greeting.
After the meeting we have a stroll through town.
To a lovely restaurant where we all sit down.
The get to know you's continue from our meeting.
Learning about each others lives while we were eating.
After a gorgeous dinner we head back to the hotel for a good nights rest.
Up bright and early to start this Icelandic quest.
Ham and boiled eggs for breakfast, lots of protein to get me started.
All packed and ready a quick photo of us all before we departed.
Back on the coach we set off to our start point of this Laugavegur route.
Dropped off 5km from the start for a little walk to warm up our legs and trekking boot.
Our first camp, tea and coffee ready when we got there.
Chammers made Patrick laugh causing him fo fall off his tiny chair.
Tears fell down faces as everyone laughed.
Just what we all needed after our first days graft.
Enough time before dinner for a dip in the hot spring.
Relaxing in the natural warm water, soothing everything.
The weather turned chilly and you could feel the coldness.
Getting out from that lovely hot water took bravery and boldness.
A quick change of clothes before sitting for our meal.
Surrounded by scenery both stunning and surreal.
Getting to sleep wasn't easy that night.
I cocooned myself in my sleeping bag to block out the light.
Waking up staving I could murder some brekkie.
Porridge and museli was just what i needed to fuel this trekkie.
All up hill today until we reach our next stop.
A few undulations but 1100m up until we reach the top.
Bridges, shelves and plateaus all made from snow.
Beautiful blankets of white everywhere we go.
Steadily and surely up and up we climb with walking poles gripped tight.
Seeing our little hut in the distance was a relieving sight.
All in one room sleeping on bunk beds and the floor.
Mentioning no names but some of us did like to snore.
A funky smell rose as the windows were shut tight.
Maybe it wasnt such a good idea having a curry that night.
Waking up needing a pee, waiting to see who else goes.
Visiting that restroom meant holding your breath or pinching your nose.
After breakfast, time to pack my stuff and check my gear.
Knee supports go on as its all down hill from here.
Setting off at a steady pace, watching footsteps as we go.
Suddenly Kirstie disappears down a hole in the snow.
Trapped past her waist "I cant feel anything under my feet" she starts to shout.
The guys comes rushing past to quickly pull her out.
After that close call we carry on all eyes peeled to the ground.
Soon stopping for a break, snow, ice and wintery views all around.
On we march to where it gets steep and narrow with no room to pass.
Loose rock under foot trying hard not to fall on my arse.
In the distance a lake appears you can just about see.
Still a few hours walking before camp and that next cup of tea.
Those hours fly by and arrive at camp, no time did it take.
A picturesque spot with rolling hills and the sun reflecting off the lake.
Simon and I head to the lake to wash clothes and have kind of a bath.
The water was bloody freezing at first but we both had a laugh.
Cold yet clean just in time for supper.
I'll warm myself up with a nice hot cuppa.
Another amazing dinner stuffed and ready to pop.
Im going to miss these epic meals everytime we stop.
Soon a really cold wind picked up, which blew with might.
Again I buried myself in my sleeping bag pulling the draw string tight.
A much better nights sleep with a rather strange dream.
14km walking today with a steep gorge and crossing a glacial stream.
A detour to a little hidden treat.
A spectacular waterfall which fell over 100 feet.
A dirt road, a mountain track and through an ice cold river we wade.
Over a bridge and by a raging river we sat having lunch we made.
As I sat eating on a perfect day with a clear blue sky.
Suddenly my contact lense falls from my eye.
To carry on with one lense was a tricky decision.
4 hours still to walk with even poorer vision.
We plodded on through weird rock formations and fields of black like sand.
Like some sort of barron erie planet or distant alien land.
We arrive at our next camp a new lense put in with help from my trusty companion.
Back in business for our little jaunt to the canyon.
A short walk to this astonishing site.
Different shades of colour from the failing light.
I stared at the natural marvel and didn't made a sound.
Totally captivated by this wonder carved in the ground.
Back at camp a freshen up in a glacial river.
A quick wash trying hard not to shiver.
Talk around the dinner table was about what saw that day.
Wondering if Iceland had anymore amazing landscapes to come our way.
Sure enough a new landscape awaits us one of which we haven't seen.
From bare rocks and empty lava flows to a wooded valley luscious and green.
Another stream crossing, across tributaries we glide.
Three glaciers seen over the valley and through a forest we stride.
Descending to our camp finally we are here.
Oh my god…a bar and free showers, time for a proper wash and then for a beer.
A couple of cold pints of the local brew really hit the spot.
We are supposed to be in Iceland who would have thought it would be so hot.
All smiley happy faces at the official end to this stroll.
A toast to a group of adventurous fundraisers who completed their goal.
Our last camping meal, outside we decide to eat.
Lamb chops on the Barbecue, that was a nice treat.
In the morning a small thank you presentation for the local crew.
For carrying our bags, cooking our meals, putting up the tents and guiding us true.
Our last days climb was tiresome and painstaking.
But the 360 degree view was jaw dropping and breathtaking.
500m up a panoramic sight from every angle.
Hanging my feet off the edge and letting them dangle.
A slow walk down through trees and so much greenery.
Bombarded with spectacular views and beautiful scenery.
Finally we finish this amazing trail with extras galore.
Every day a different landscape and natural wonders to explore.
We find a grassy spot and flake to the floor.
Please no more walking my body can't take anymore.
Day after day feeling completely shattered.
Our mission completed and thats all that mattered.
Waiting for the coach to arrive we all grab some lunch.
I look around proud and honored to have trekked with this awesome bunch.
One last treat when the coach pulled up to us all.
The chance to walk behind a waterfall.
An amazing experience being behind the water as it dropped.
We all really enjoyed that and glad we stopped.
Back at Hotel Gardur a proper bed to rest.
A lovely shower before our last meal dressed in our best.
A gorgeous 'eat all you like' buffet with food galore.
My plate was empty in minutes so I went back for more.
After our meal we went for one last beer.
A lovely night in Reykjavik to end coming here.
Sunday a day of R & R at the Blue Lagoon.
Warm water, swim up bar lets make the most of it as we're flying home soon.
With white mud on our faces and trying hard not to blink.
After a group photo all up to the bar for a ice cold drink.
Time flew really fast and soon we were on our way.
To the airport ending our Icelandic stay.
A little lunch and duty free shopping before we boarded.
Our mission completed feeling accomplished and rewarded.
On the plane I tried to remember what we did, saw and what to write about.
So many memories…sorry if I've missed anything out.
Like…Brian's daily challenge, trekking buddies and your buddy's buddy.
Volcanic ash, obsidian rock and river shoes all wet and muddy.
Buffs, bags and boarding passes.
Trips, slips and falling on arses.
Making our sandwiches while having a mutter.
Cheese, meat, salad and trying to spread that rock hard butter.
Cuppa soups, biscuits and plenty of snacks
Tea, coffee and hot water flasks all stuffed in our sacks.
Blisters, mozzie bites and sun kissed faces.
Aches, pains and chaffing in some rather private places.
Gadgets, step trackers and my fold up spade.
Modifications to my kit bag and a drinking bottle I made.
Elves, snow snakes and mythical fables.
Stories of polar bears and unicorns told around dinner tables.
Canyons, crevices and steam vents coming from the ground.
Snowy peaks, colourful horizons and seeing for miles around.
Zig zagging paths and abseiling down a small slope.
Taking it slow, easy, leaning back and gripping the rope.
Boiling pools of water and the smell of sulphur in the air.
Photos of each other on Facebook for us all to share.
Geysers, glaciers and the volcano with a long name.
I love this magical country and so happy I came.
Time to say a few thanks for such an epic journey.
For a shoulder to lean, or arm to hold and helping us all to see.
A massive thanks to Brian and Gwyn from Expedition Wise.
For leading, guiding and good company there an awesome couple of guys.
To my walking bud Richard for your shoulder and for your feet.
The whole week guiding me well in the rain and in that heat.
To Pete, Michelle and Harriet for organising this amazing feat.
Topping this adventure will be tough one to beat.
To Gummi, Edwin, Irma, Victor and Gisli, our smashing crew.
Guiding, cooking, driving, tents and for everything else you do.
To my fellow trekkers what a fantastic team, I hope you all had a blast.
Thanks for your support, company, friendship, trust and a bond that will forever last.
Last but not least thank you Iceland a geothermal wonderland, a new found love hard to disguise.
Writing about this year's trek bought tears to my eyes.
Until the next adventure whether it's under the sun or through the snow.
If your thinking of going please let me know.
Or a long trekking trail or steep mountain tour.
You will definately see me again with my gadgets and more.
Thank you
Mark Baxter
RP Fighting Blindness
Iceland Laugavegur Trek
24th – 31st July 2016