Webinars
We are pleased to be able to offer a series of free to attend webinars:
More information will be available soon
All of these online events will be hosted on Zoom, which can be accessed from your computer, laptop, tablet, mobile device or telephone.
Information days
Scotland (Aberdeen):

Postponed

Bristol: Tuesday 13 September
Oxford: Wednesday 14 September
Manchester: Tuesday 27 September
Hull: Thursday 29 September
Conferences 2022
Our 2022 Conferences are now over. We will confirm the date for 2023 as soon as we can.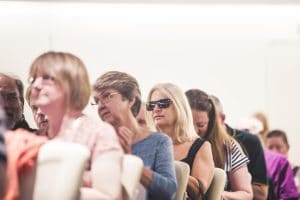 "My family and I met some truly wonderful and inspirational people. I can honestly say it has changed the way I feel about retinitis pigmentosa. I don't feel so alone having met, face to face, other people who actually understand my condition."
Retina UK Local Peer Support Groups
The Retina UK Local Peer Support Groups offer information and support via regular meetings and updates on their regional Retina UK Local Facebook pages.
To find out about our fundraising events, visit Get Involved.