Here you can learn about the information events we offer. To find out about our fundraising events, visit Get Involved 
Retina UK Information Days
Our Information Days feature research updates, information about vision technologies, presentations from local sight loss charities, question and answer sessions and they offer a chance to meet members of the Retina UK community. Free to attend, these events always prove popular with delegates.
Retina International Conference
The 21st Retina International World Congress will take place from 4-6 June 2020 in Reykjavik, Iceland. More information can be found at: www.riwc2020.is.
Retina UK Local Peer Support Groups
The Retina UK Local Peer Support Groups offer information and support via regular meetings and updates on their regional Retina UK Local Facebook pages.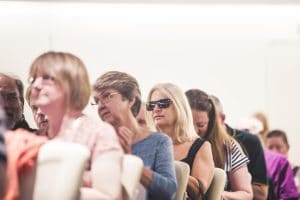 "My family and I met some truly wonderful and inspirational people. I can honestly say it has changed the way I feel about retinitis pigmentosa. I don't feel so alone having met, face to face, other people who actually understand my condition."