In this section of the Retina UK website, you can learn about the different type of information events we offer. If you're interested in learning about our fundraising events, visit our Get Involved  pages.
Retina UK Annual Conference
Our annual conference is the highlight of our Retina UK calendar. Attended by over 200 people each year, it attracts top speakers from the fields of medical research and science, and includes a variety of workshops, inspirational presentations and activities to get involved with. A medical question and answer session where the audience can put their questions to an esteemed panel of experts also features. It is also a great opportunity to affect others affected by inherited sight loss conditions. Attendance is free to members of Retina UK, with places costing £30 each to non-members. Registering your place early is recommended. Details about the 2019 Retina UK Annual Conference will be released in the new year.
Retina UK Information Days
Check back here regularly to learn about upcoming Information Days in your area. Retina UK Information Days feature research updates, information about vision technologies, presentations from local sight loss charities, question and answer sessions and they offer a chance to meet members of the Retina UK community. Free to attend, these events always prove popular with delegates. Our Retina UK 2019 Information Day programme will be released in the new year.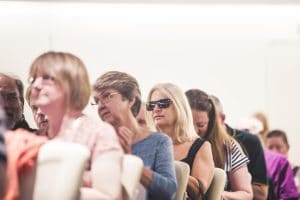 "My family and I met some truly wonderful and inspirational people. I can honestly say it has changed the way I feel about retinitis pigmentosa. I don't feel so alone having met, face to face, other people who actually understand my condition."