2021 events
We are pleased to be able to offer a series of free to attend webinars for the autumn with some incredible speakers, including Roly Megaw and Michael Gilhooley. We have also arranged two free to attend online information evenings. Information will be specific to the region (Northern Ireland and Wales) but all are welcome to attend. All of these online events will be hosted on Zoom, which can be accessed from your computer, laptop, tablet, mobile device or telephone.
Watch or listen to the recordings of previous webinars:
Save the date
We hope to hold our Professionals' Conference on Friday 8 July 2022 and our Annual Conference on Saturday 9 July 2022. These dates are to be confirmed.
Retina UK Local Peer Support Groups
The Retina UK Local Peer Support Groups offer information and support via regular meetings and updates on their regional Retina UK Local Facebook pages.
To find out about our fundraising events, visit Get Involved.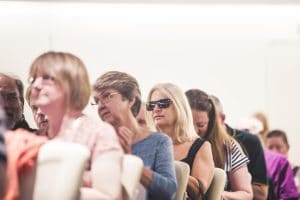 "My family and I met some truly wonderful and inspirational people. I can honestly say it has changed the way I feel about retinitis pigmentosa. I don't feel so alone having met, face to face, other people who actually understand my condition."