Wing Walking
Get ready to experience the thrill of a lifetime!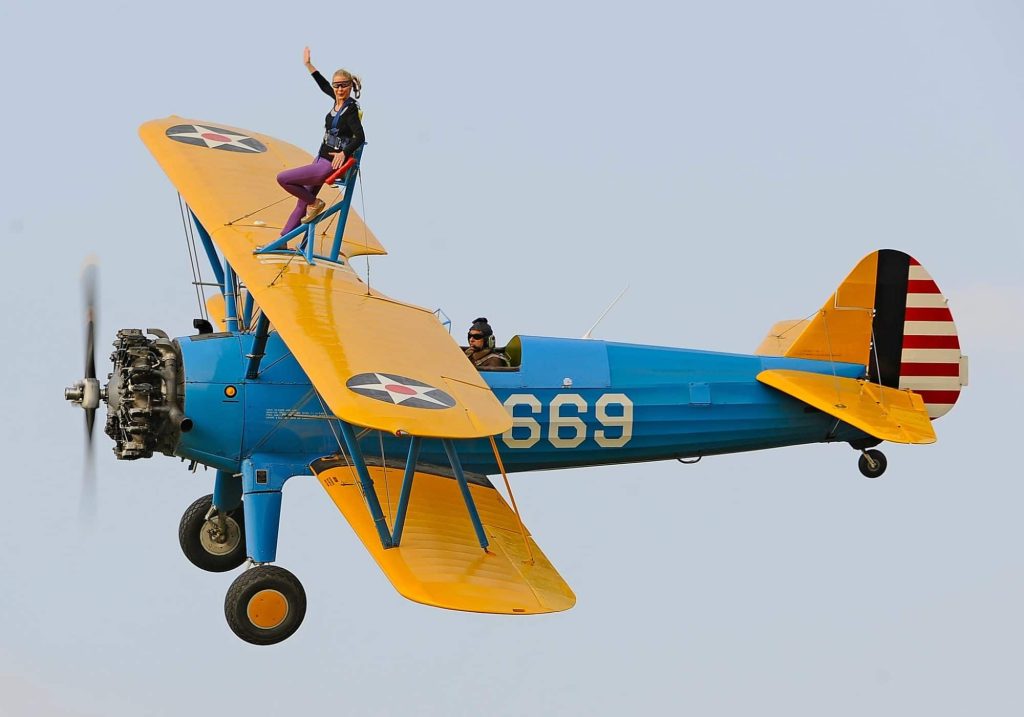 The ultimate experience!
Take on a wing walk for Retina UK and fly at speeds of up to 135 MPH, at heights between 100 and 700 feet. Strapped to a 1940s Boeing Stearman biplane and flown by some of the best display pilots in the country, with steep-turns, dives and zoom climbs – you'll be totally exhilarated!
All flights are approved by the UK Civil Aviation Authority. There's a spectator area for friends and family to watch, and you can also have a HD video made (additional cost involved).
These wing walks are organised by Skymax Wing Walkers. They are available from April to mid October located inside the M25 – five minutes from Upminster tube and rail.
Find out more at www.skymax.co.uk
How can I take part?
There are two options for taking on a wing walk:
Pay the fees yourself and raise as much as you can for Retina UK (£395 Tuesday-Thursday, £420 Friday-Sunday).
Pay a deposit of £50 to Skymax Wing Walkers, and pledge to raise a minimum of £1,000 for Retina UK.
To book, please contact Skymax Wing Walkers directly on 07522 944798 or email them on wingwalk@skymax.co.uk.
If you have any other questions, contact our Fundraising Team on 01280 815900 or email fundraising@RetinaUK.org.uk.
Key details you need to know
The minimum age to wing walk is 18.
The maximum age is 65. If you're over the age of 65, Skymax ask that your doctor signs a medical declaration form and that the you go to the airfield before you book, to have a go at climbing onto the wing of the plane. Climbing onto the wing can be physically challenging and we want to avoid disappointment if you book, raise sponsorship and cannot climb up on the day of the flight.
The maximum weight is currently 12 stone 2lb (77kg). From the 01 June 2021, the weight limit will increase to 13 stone 5lb (85kg). All wing walkers will be weighed on the day to check they are within the relevant limit (this weight includes all clothing worn to fly in).
You will be asked to sign a medical declaration and an acknowledgement to say you understand the risks associated with wing walking.
Skymax Wing Walkers are fully insured with £10 million combined third party and passenger liability.
"Retina UK gave me the best support after my diagnosis. The support, patience, empathy, kindness and understanding I received from helpline staff is one of the main reasons I came to terms with my diagnosis."