Tandem Cycling Stories
Our amazing community have embraced the opportunity to raise money for Retina UK by taking part in the Tandem Cycling Challenge. Here are some of their stories:

Tom and Mike Savage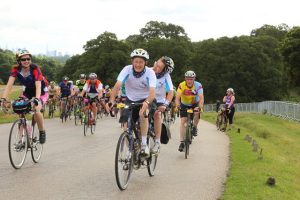 In July 2007 when Tom was 15 he was hit by two cars whilst crossing a road in Chelmsford sustaining a serious head injury which left him in a coma for two months. As a result of the accident Tom is unable to speak, has dystonic / spastic posturing in all four limbs. He can walk but is affected by dystonia and blepharospasm (sustained, forced, involuntary closing of the eyelids). Despite this in 2015 Tom learnt to ski again – something he had done with school before his accident and really enjoys. This was made possible by a Charity Disability Snowsport UK (DSUK) whose instructor James Sterry at Hemel Hempstead indoor ski slope taught Tom to ski again.
For Christmas 2016 Tom was bought a tandem to see if this would enable him to ride a bike. It was an instant success, with Tom providing the power (the stoker) with Mike, his dad, acting as pilot. DSUK advertised for cyclists to enter the Ride London Surrey 100 in 2017 and wanting to give something back Tom signed-up, despite having only being riding the tandem for a few months. After much training, we completed the 2016 Ride London in 7 hours and 44 minutes – a truly amazing day and fantastic achievement by Tom and his 54 year old dad. Since then Tom has completed charity tandem rides for Essex Air Ambulance and Fairliegh Hospice in 2018.
A colleague of Mike who works for The Royal Mail saw the Tandem Cycle Challenge being promoted on the Royal Mail Intranet. Not having seen a tandem charity ride before we immediately signed-up. We are looking forward to the challenge and meeting other tandem pilots and stokers.
In his own words
"Hello my name is Tom Savage, a long time ago (13 years) I got myself whacked by a car. Since then I have been disabled. Then 3 years ago Tina and Mike (my mother and father) got me a tandem, as I have got blepharospasm due to the accident. Since we (Mike and I) got on so well with my tandem Mike decided to purchase himself a road tandem, for us both to use, for the Prudential Ride London, 100 mile (for DSUK), which we did later that year. Then the next year we did the Essex Air Amublance 80 mile and Farleigh Hospice 100 km rides. We are again signed-up to the Farleigh Hospice ride in September which should be good practice for the Hadrian's wall tandem cycle."
www.justgiving.com/fundraising/tom-and-mike-savage
Maddy Carter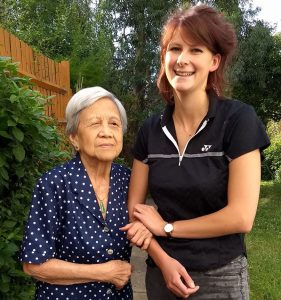 I'm taking part in the Retina UK tandem cycling challenge for many reasons. My main motivation is my grandma, who has lived with RP for most of her life. She helped to raise my sister and me, and even at 96 years old shows no sign of that stopping her enjoyment of life, family gatherings and travel.
I'm also directly involved with retinal medical research, currently carrying out a PhD at Newcastle University working on a project to generate stem-cell derived models to use for testing therapeutics to treat degenerative retinal diseases such as RP and AMD.
I am excited to get involved with Retina UK to raise awareness of the difficulties of living with visual impairment and raise funds which directly support new scientific research! Being a keen cyclist will help in what I am sure will be an enjoyable and challenging weekend!
Intisar Shah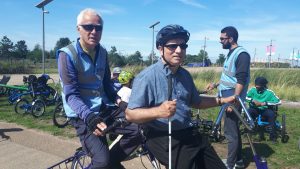 I used to be a very keen cyclist before my eyesight deteriorated. So this will be a fantastic opportunity to ride a bike again and raise money for Retina UK at the same time. I have been training hard for the event, and am a member of cycling club, 'All abilities cycling' who regularly meet at the Velodrome at The Olympic Park in Stratford. Intisar and his, 'pilot' (the lead cyclist on the tandem) Dr Rehan Qureshi hope to raise a target of £4,000.
Intisar said "The charity's work could lead to a lot of people regaining their vision. It's especially important for young people and children who have been diagnosed with inherited eye conditions. When the treatment comes out it will be more effective at preserving sight rather than restoring sight that has already been lost. It is also possible that one day lost sight can be regained – that would be fantastic."