Virgin Money London Marathon
26 April 2020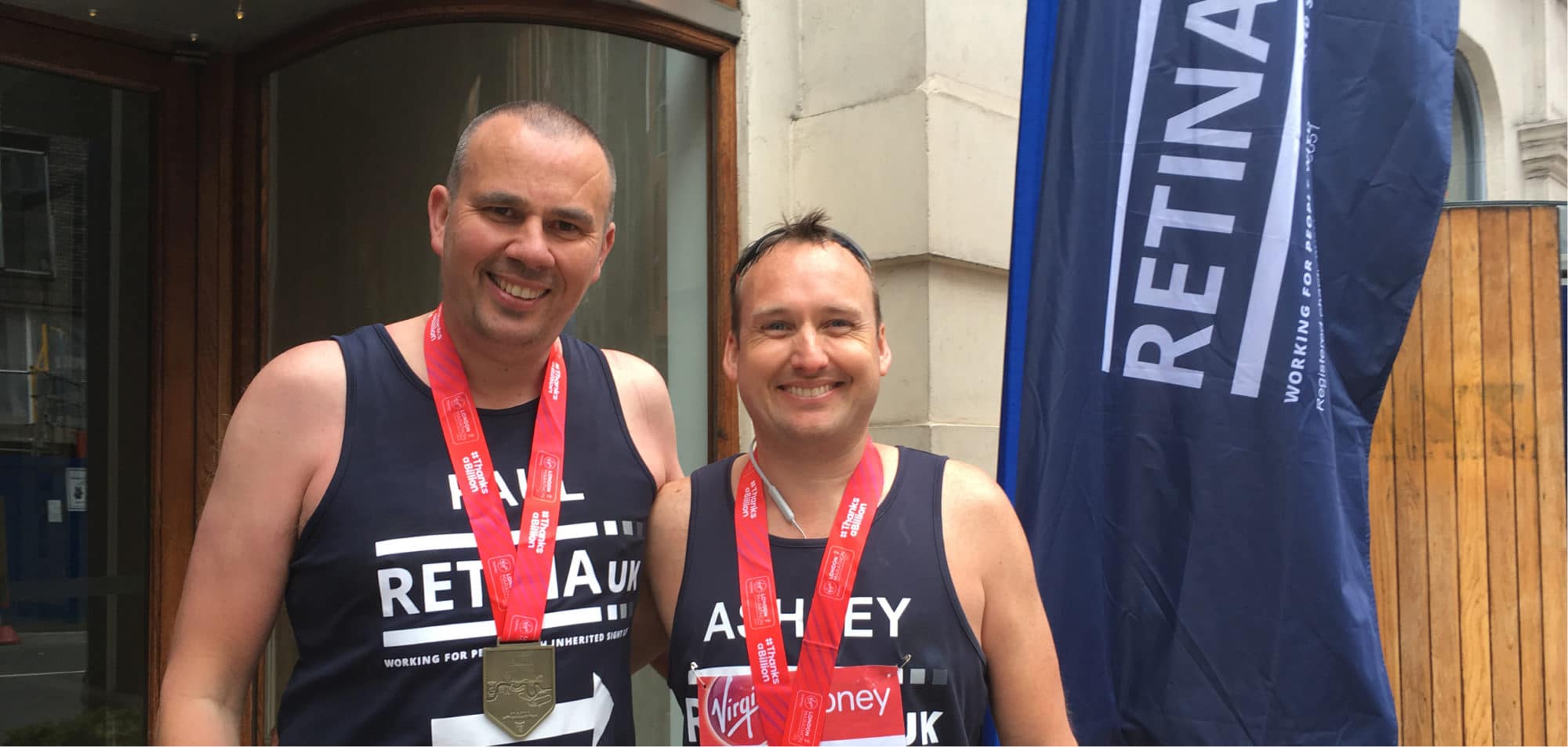 The 2020 Marathon takes place on 26 April, and promises to be another fantastic event!
By joining Team Retina UK, you will be raising money to help us achieve our vision; a world where everyone with inherited sight loss is able to live a fulfilling life. We have now filled all our charity places, but if you'd like to join our waiting list please email our Fundraising Team at fundraising@RetinaUK.org.uk.
The London Marathon is a world-famous event, and must-do for all people who enjoy running!
It's a great way of raising money for our cause, while undertaking a fantastic personal challenge. We have some people who run year after year for us, because the buzz of completing after training so hard is unbeatable.
You will also benefit from the following:
Support from the Retina UK fundraising team all the way up to marathon day
Personalised running vest
An invitation for you and your supporters to our famous post-race reception. There will be refreshments for you and your supporters, and a professional sports massage and use of the hotel's showers for you
Invitation to the Retina UK Challenge Events Facebook group where you can chat to your fellow team members
We had 27 people representing Retina UK at this iconic event in 2019, and you can read more about them below.
If you are lucky enough to get a ballot place and would like to be part of the team, drop us line and we will add you to our great line up!
If you have any questions please contact our Fundraising Team on 01280 815900 or email fundraising@RetinaUK.org.uk
SPOTLIGHT ON OUR 2019 RUNNERS
Liz Pimperton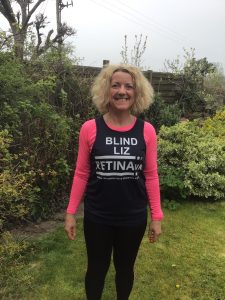 My name is Liz and I am part of the Retina UK Virgin Money London Marathon team this year. I have retinitis pigmentosa, and when I was first diagnosed I was given very little information from my doctors, which led me to ring the Retina UK helpline. I was given some really good advice, which made me want to give something back to the charity. I have a lovely guide dog called Yves, who is very cheeky and lovable. However for this challenge I will be running with my guide runner Stewart.
I love running, cycling and swimming, and have taken part in the Prudential Ride London 100 mile bike ride, the two mile Swim Serpentine, and once I've completed the London Marathon I will receive the London Challenge medal for doing all three. I also have a big love of cake which is why I run!
You can sponsor Liz by visiting her fundraising page.
---
Ashley Campbell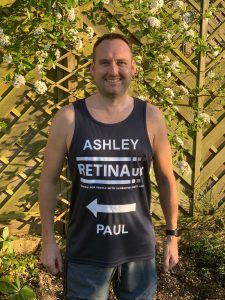 I'm Ashley, I have RP, and I'm taking on the Virgin Money London Marathon for the third time, having run it previously in 2015 and 2017. I started running in May 2013 to try and keep fit and although I can't easily run at night or on the roads due to my vision (I use a white cane when walking on my own) I run around the field behind my house and use a running machine in a shed at the bottom of the garden. Since the last Marathon in 2017 my eyes have deteriorated such that my registration has changed from partially sighted to severely sighted / blind with a visual field of no more than 3-5% of a person with 'normal' sight. Due to this I have been given a guide runner and am thrilled to say this is one of my closest friends Paul who will keep me running in the right direction.
You can sponsor Ashley by visiting his fundraising page.
---
Stewart Shimberg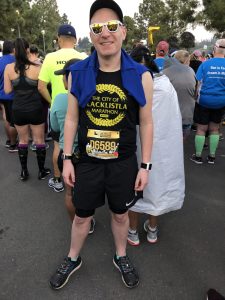 I'm Stewart and I will be guiding Liz at the London Marathon this year. I've run eight marathons before, and have just got back from LA having run the marathon over there. I tried for seven years to get ballot entry for the London Marathon but I've never been lucky enough to get a place. It's a privilege to get to run this race that I had longed to do, with someone so inspiring. Much like Liz, my Grandma Rose who is 103 is now blind, so it's an honour to run for a charity so close to my heart.
---
Tim Robinson
---
Faye Maguire
You can sponsor Faye by visiting her fundraising page.
---
Diane Bentham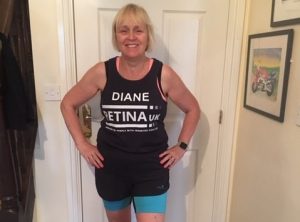 At the age of 14 I was told that I had retinitis pigmentosa and that I would be totally blind by the time I reached 20 years old and that was it. I was just left to carry on with my life.
As I got older I discovered Retina UK, a charity that helps and supports people like myself. The charity also funds research projects in the hope of finding a cure – this was a real lifeline for me. I now have the opportunity to run the London Marathon and raise funds for this wonderful charity so that their good work can continue to help others.
You can sponsor Diane by visiting her fundraising page.
---
Rachel and Dan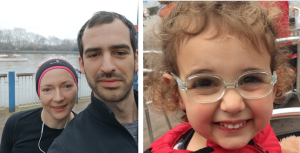 We are running the London Marathon for Retina UK having seen first hand how inherited sight loss affects people and how important it is to fund further research and develop treatments in this area.
Our friend's five year old daughter Vicky was diagnosed with Leber Congenital Amaurosis back in 2016 and her parents have been fighting every day since then to raise awareness and funding for research that can help find a treatment for this condition (currently there isn't one).
Neither of us had one much long distance running before this, but back in January we threw ourselves into our training with enthusiasm and have been clocking up the weekly miles along the river in South West London ever since. It's been challenging both physically and mentally at times, but keeping the bigger cause in mind and seeing the donations come in has helped us stay motivated across the past four months.
We are super excited for Sunday – wish us luck! And if you'd like to make a last minute donation to help calm our nerves, here's our links: www.justgiving.com/fundraising/rachel-runs-for-vicky / www.justgiving.com/fundraising/dan-runs-for-vicky.
---
Joe and Tom
---
"The London Marathon has the be the best thing I have ever taken part in – the support of the crowd and knowing I was
running for such a fantastic cause close to my family was an incredible feeling."