Victor completes the Munich Marathon!
Posted on: Tuesday 23 October 2018
---
On 14th October, Victor took on the Munich Marathon for the Retina UK research fund.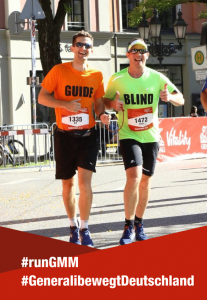 He completed the marathon in 4 hours 50 minutes, a fantastic achievement, especially as he only started running a year ago. He has described the freedom he felt by starting to run with a guide:
"You cannot imagine the sensation that running gave me. I felt unstoppable. There are no limits there, you run and you are free. It doesn´t matter if you cannot see. You don't need your sight to run."
Victor has retinitis pigmentosa, and has been on a mission to raise money for research by taking on this epic challenge.
Working with NoisyVision, Victor has been campaigning to raise both Victor and his guide running the Munich Marathonfunds and awareness of retinitis pigmentosa, with updates and videos capturing his journey to marathon day. Raising awareness of inherited sight loss is so important, helping people understand the condition, and what it's like to run with a visual impairment. It also no doubt helped with the fundraising, and so far Victor has raised €4703, with the aim of reaching €5000. You can donate via his GoFundMe page here
After Victor completed the marathon he told me:
"The marathon was tough, but I'm glad I finished. Such an amazing experience. More important, I am very proud that we have managed to raise funds to help combat retinitis pigmentosa."
Thank you so much to Victor and NoisyVision for supporting the Retina UK research fund, and congratulations once again Victor for completing the Munich Marathon.