Retina UK publishes unique insight into the experiences of people with inherited retinal conditions
Posted on: Wednesday 24 July 2019
---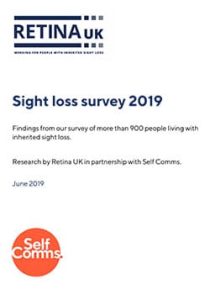 National sight loss charity Retina UK has published its unique insight into the experiences of those living inherited retinal conditions.
Almost 1,000 people completed a survey earlier this year to help the charity understand the real-life experiences, challenges and expectations of those living with these conditions.
Tina Houlihan, Chief Executive, said: "We are an organisation entirely focussed on people living with inherited retinal dystrophies; to make the biggest difference for our community and have the right priorities we need to constantly learn more about real-life experiences, challenges and expectations of families living with these conditions."
Key findings included:
Over half (53%) say their sight loss has a severe or very severe impact on their quality of life.
Loss of confidence, anxiety and stress are the biggest emotional or psychological impacts of sight loss. Only 8% say they've experienced no impacts like these.
The experience of being diagnosed has improved over the past 20 years but only around one in five are told about support available from Retina UK.
Almost two in three respondents (63%) receive ongoing care from an ophthalmologist, and most (77%) are satisfied with the care they receive.
The most useful services are: benefits advice; mobility training; access to work schemes; and counselling. Benefits advice and counselling also appear on the list of services hardest to access.
Respondents access a wide range of aids, but many would like to access more assistive technologies such as electronic devices and computer apps.
More than half (58%) are aware of clinical research into their type of sight loss, and 20% have participated in research.
Only 15% know the gene implicated in their condition.
Respondents mostly agree Retina UK is approachable, trustworthy, and ambitious on behalf of people with sight loss. 80% rate our services as 'excellent' or 'good'.
Retina UK will use the findings to inform its work.
Ms Houlihan added: "Thank you to everyone who completed our survey. We are now analysing the findings to ensure we make the most of this valuable information to inform, influence and guide us to even better delivery for everyone living with inherited sight loss."