Retina UK launches new Tandem Cycling Event
Posted on: Friday 18 January 2019
---
Retina UK has launched a brand new event for 2019. From 11th-13th October, Retina UK supporters will come together to cycle 100 miles over two days along Hadrian's Cycleway.
Supported by paralympic cyclist Steve Bate, the event promises to be a fantastic experience, a great challenge, and a chance to meet new people and make lifelong friends.
Join on your own or with a cycling partner. If you need a co-pilot we will partner you up with another cyclist for the event. If you don't want to take part on a tandem bike that's fine too – solo cyclists are also welcome!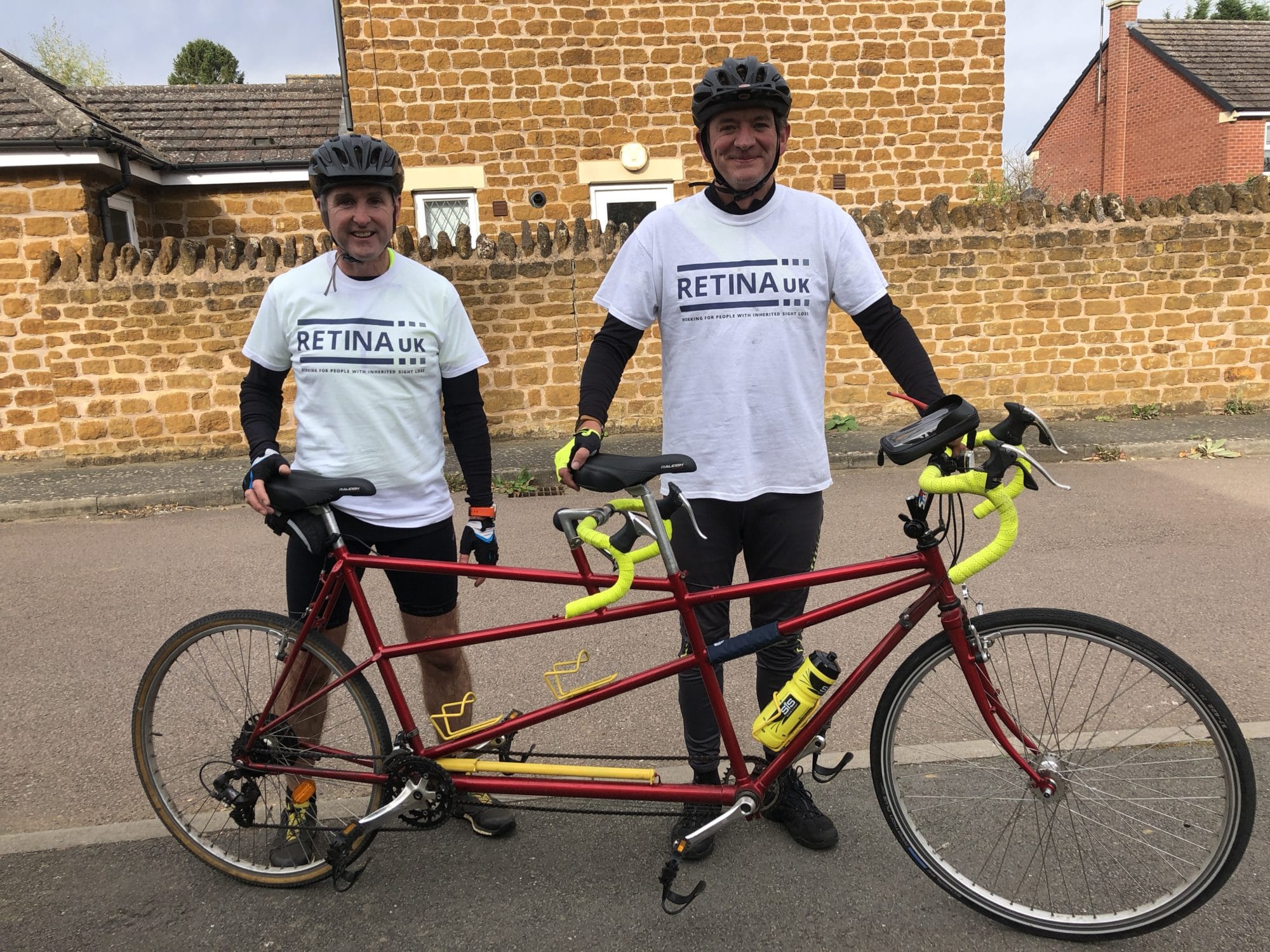 The fun starts on Friday 11th October, when everyone will meet up in Tynemouth and settle into their accommodation for the night. This will be a great opportunity to meet the other cyclists on the challenge, make friends, and prepare for the start of the cycle the next day.
On the morning of Saturday 12th October, you and your bikes will be transported to the start line in Bowness on Solway, and will be given a briefing from Trailbrakes, who will be providing the event backup. Then you will be off on the start of your adventure! You will be cycling 44 miles on the first day, passing many miles of interesting coastline, designated an Area of Outstanding Natural Beauty and famed for its abundant bird life. You pick up the start of Hadrian's Wall at Bowness on Solway and follow it through historic Carlisle with its fantastic Castle, Museum and Cathedral. As you head east along scenic country roads you'll find Roman forts, turrets and abbeys, not to mention very straight roads, in abundance. You'll reach the 'Centre of Britain' and stay the night in the lovely town of Haltwhistle.
On the second day of cycling on Sunday 13th October, you will be cycling 56 miles to complete your challenge.Once you meet the river Tyne at Hexham it's pretty flat (just about) all the way to the coast and the cycling is mainly on well surfaced cycle paths as you cut a cross section through Newcastle. Following the river Tyne right to the end of Hadrian's Wall at the fort of Segedunum then on to the North Sea where you'll reach your destination at Tynemouth Priory where you will be met by Retina UK team members to help you celebrate your fantastic achievement and to collect your medals. Then you can make your way home with your amazing memories, knowing that the fundraising you have done alongside the challenge is going to help us fund more cutting-edge research and allow us to help more people than ever before through our support services.
To find out more and to sign up for the challenge please visit www.RetinaUK.org.uk/TandemCycle. If you have any questions about the challenge please contact Emily Purchase on 01280 815900 or email fundraising@RetinaUK.org.uk.