Recognition for Retina UK volunteer at Helplines Partnerships Awards
Posted on: Tuesday 12 November 2019
---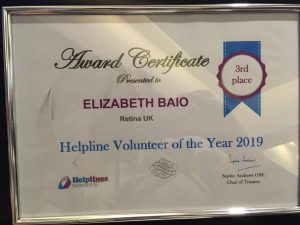 Congratulations and a huge well done to Elizabeth Baio who was awarded 3rd place in the Volunteer of the Year awards at the Helplines Partnership Conference on Wednesday 6 November.
The Helplines Partnership recognises and celebrates the amazing work that helplines, their staff and volunteers do, providing information, support and advice to improve people's lives. The Helpline Volunteer of the Year Award celebrates the contribution made by full-time or part-time helpline volunteers.
Elizabeth is one of a team of fantastic volunteers who are using their own experiences to support others living with sight loss via our telephone and email helpline service, available Monday to Friday 9.30am – 9.30pm.
Elizabeth helped to establish Retina UK's helpline more than 35 years ago. In 2018 when we launched our Charles Bonnet Syndrome (CBS) telephone buddy support service, Elizabeth volunteered to be our first buddy.
Retina UK Volunteer Coordinator, Clair Pudaruth said "Elizabeth's knowledge, experience, clarity and warmth has a lasting positive impact on our community. She selflessly shares her personal experiences of CBS, and offers coping strategies. Thanks to her, hundreds of people affected by an inherited retinal dystrophy are better informed and more able to cope with the daily challenges of progressive sight loss."
Our volunteers responded to 961 helpline calls and emails in 2018. We simply couldn't provide this invaluable service without them. Their honesty, good humour and commitment to supporting people with inherited sight loss is hugely appreciated by us all. One service user's mother commented: "Living with this condition on top of the blindness is unimaginable. To talk to Elizabeth was so reassuring and supportive. To have the contact with someone who 'understands' makes a huge difference."