Informative and positive first Professionals' Conference from Retina UK
Posted on: Wednesday 2 October 2019
---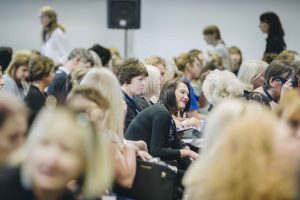 Overwhelming positive feedback has been received from the 180 delegates who joined us for our first Professionals' Conference.
The education, health and social-care professionals who attended the event on Friday 27 September included ECLOs, QTVIs and Rehabilitation Officers.
The focus was on making difficult conversations about sight-loss more positive and how to provide high quality information and support, as well as an update on research.
Comments from professionals attending included "Very well organised. Good support from staff", "The Panel was one of the best I've seen in any of the VI community" and "Samantha de Silva did an excellent job of simplifying complex medical terminology".
Our delegates saw a stellar line-up of speakers with topics including updates on genetic testing and potential therapies for inherited retinal conditions from Professor Susan Downes (Oxford University) and Samantha De Silva (Moorfields Eye Hospital).
Our Experts by Experience panel spoke honestly and passionately about both good and poor practice at the time of diagnosis and beyond. The panel had been affected by retinitis pigmentosa (RP), Usher Syndrome and Choroideremia. As Molly Watt, who lives with Usher Syndrome, told delegates: "Be open minded and don't make any assumptions. Ask people what they want and need – don't assume anything."
Experienced Social Worker/Counsellor, Barbara Norton, talked about the impact of progressive sight loss on mental health. Her stand-out quote was: "It's not only what is said, but the method of the delivery."
A number of exhibitors joined us from the charity and corporate sector.
Tina Houlihan, CEO at Retina UK said the event had been a huge success.
"Retina UK and the professionals who support people with inherited sight loss conditions in a health, education or social care setting are all striving to do the best we can for our community. This is a fantastic example of the difference we can make when we work together."
Thank you to our sponsors OXSIGHT, Novartis, Roche, ProQR and Meira GTx for their support which made it possible to offer this event free of charge to delegates.