Inaugural North West Family Fun & Information Day
Posted on: Monday 11 March 2019
---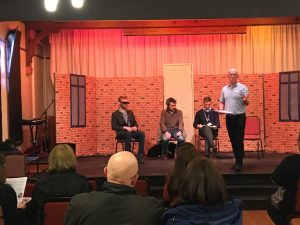 Retina UK joined forces with Henshaws; Royal Society for Blind Children and St Vincent's School for the Blind to hold a family event in Liverpool on Sunday 10 March. Despite the horizontal sleet and snow, this free event saw over 50 people from across the North West turn up to enjoy the day.
Children had the opportunity to join in with games and crafts as well as joining in a multi-sensory story telling session by Gwyn McCormack from Positive Eye. Gwyn brought the story of Marvin's adventure alive with wonderful props and lots of audience participation.
Parents had the opportunity to hear from Laura Ross, a paediatric Eye Clinic Liaison Officer at Manchester Royal Eye Hospital who spoke about the support available. She also gave some top tips and answered questions about attending appointments with your child. We then heard from John Turnbull, a Specialist Education Officer for Guide Dogs who talked through some important facts about Education & Health Care Plans (EHCP's), which provoked lots of questions from the parents.
There was also a Digital Drop-In over lunch, where Henshaws Digital Enablement Officer demonstrated some of the new and exciting pieces of equipment and technology to assist with day-to-day life skills as well as discussing funding options and grants available to help purchase equipment.
Following lunch Paul Roberts from St Vincent's provided information around transitions and discussed St Vincent's new supported internships program for ages 16+. We heard inspiring stories from three individuals who followed their dreams and refused to allow their conditions to hold them back. Roy Turnham, a local Paralympian blind footballer; James Laird a writer and George Ferguson who works for Henshaws supporting other young people with visual impairments.
It was a great day and gave families the opportunity to come together, socialise and learn from each other. One mum on leaving thanked us for inviting her. She said that she had learned a lot but more importantly felt less alone in dealing with the issues she faced with her son's condition.
If you would like more information about regional events and other Retina UK activity, please subscribe to our newsletter.
See also: