Hope to Seaview 2019
Posted on: Wednesday 14 August 2019
---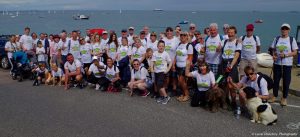 Thank you to Retina UK Trustee Colin McArthur, his wife Linda and everyone who took part or donated to Hope to Seaview on the Isle of Wight on 9 June.
So far over £6,200 has been raised, with sponsor money still being collected. The idea behind Hope to Seaview is to fund research so that people can dare to 'Hope to see the view again'.
'Steppin out Boogie Bus' entertained an enthusiastic group of over 70 people before they were set off from Hope beach through a balloon arch by John, the town crier. The walkers proceeded along the beautiful coastal path and over the Culver cliff, then down through Bembridge to the harbour where they were ferried across by water taxis.
All 70 completed the 12-mile walk and were entertained at the finish by John (who lives with retinitis pigmentosa) and his group 'Cajundaze' at the Old Fort.
Thanks to the Salix Shanklin, Bembridge harbour water taxis and The Old Fort in Seaview for helping us stage this sponsored walk, also to
Phipps design for the artwork for the T-shirts.
If you wish to donate go to www.justgiving.com/HopetoSeaview2019.