Retina UK Tandem Cycling Challenge
11th-13th October 2019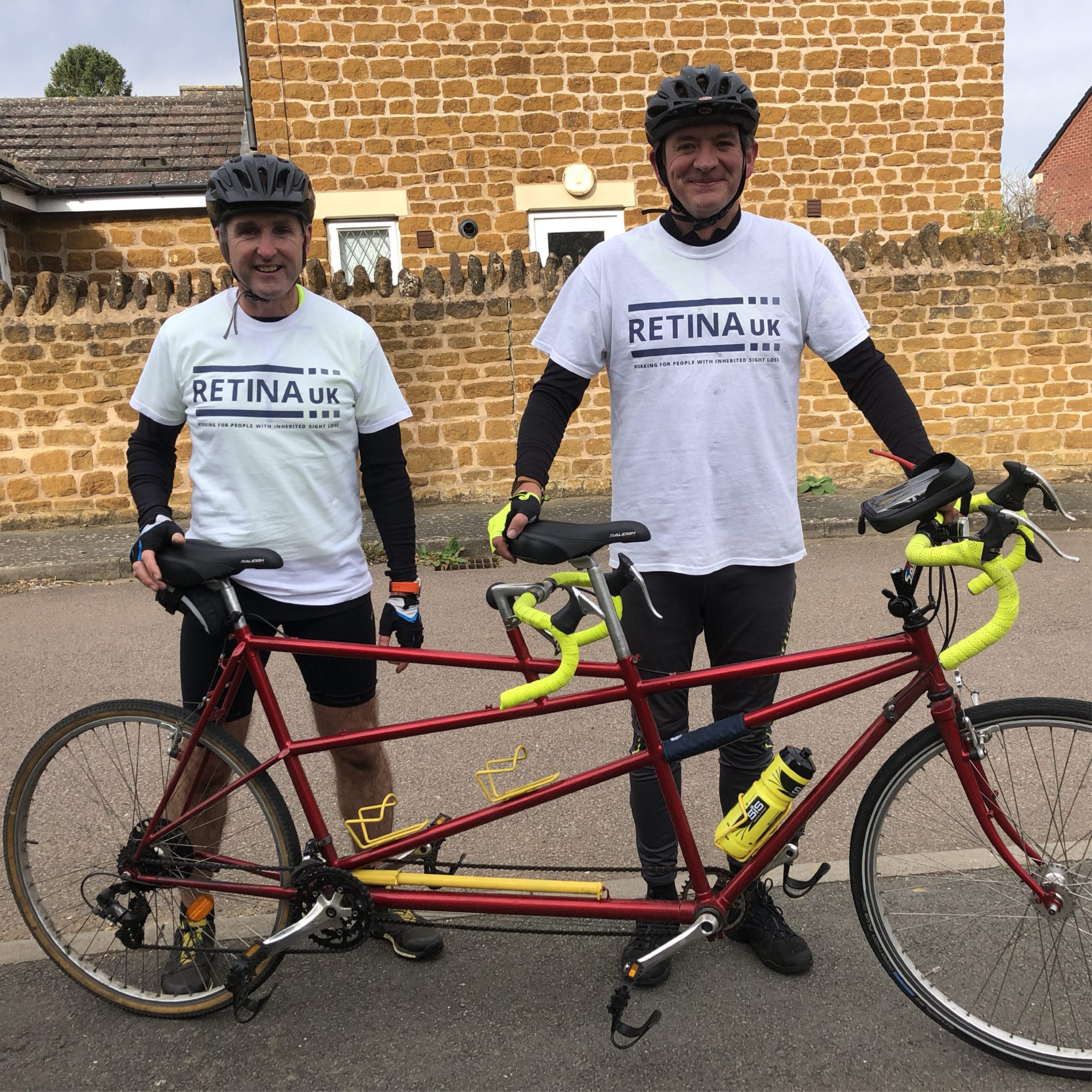 Join Retina UK for this brand new event, the Tandem Cycle Challenge!
You will arrive on 11th October to meet the other team members and settle into your accommodation for the night. The next morning you and your bikes will be transported to the start line, and after a brief by the team, you will all set off along Hadrian's Cycleway, stopping around halfway for your overnight stay and completing the challenge on 13th October. The full itinerary can be found below.
To sign up, please complete the application form and pay the £75 registration fee (per person). By signing up you are committing to raise the minimum fundraising target of £325 per person.
Included in the challenge is:
Two days fantastic biking
Two nights comfortable accommodation (all either three or four star bed and breakfast accommodation) all close to places to eat and drink in the evening, providing great service, bike storage etc.
Transport from Tynemouth to Bowness on Solway at the start of the trip
All baggage transfers throughout the trip
Map of the route and GPS files if required
Detailed route information including places to visit, stop to eat etc.
Vehicle back up
There are many companies across the UK that hire out tandem bikes. We will be able to send you this list so that if needed you can arrange to hire a bike. Charlotte's Tandems will even hire out tandem bikes for free to anyone with a disability. Find out more on their website www.charlottestandems.co.uk
If you'd like to take part but don't have a co-pilot don't worry! We will pair you up with someone for the challenge.
If you have any questions about the challenge please contact Emily Webb on 01280 815900 or email emily.webb@RetinaUK.org.uk
Day one – You travel to Tynemouth/Newcastle.
Meet everyone taking part, and a stay in bed and breakfast accommodation. This is where the challenge will be ending, so that anyone who drives up will be able to leave their cars at the end of the challenge, ready to go home once the challenge is complete.
Day two – Everyone travels over to Bowness on Solway. Cycle from Bowness to Haltwhistle, distance approx. 44 miles with around 850 metres of climbing.
The support team would meet you at the start point and make sure you were all set for the journey ahead. They will give a briefing and make any plans to meet the riders during the day.
This is a great day of cycling to get you started and the route follows the coast, passing many miles of interesting coastline, designated an Area of Outstanding Natural Beauty and famed for its abundant bird life. You pick up the start of Hadrian's Wall at Bowness on Solway and follow it through historic Carlisle with its fantastic Castle, Museum and Cathedral. As you head east along scenic country roads you'll find Roman forts, turrets and abbeys, not to mention very straight roads, in abundance. You'll reach the 'Centre of Britain' and stay the night in the lovely town of Haltwhistle.
Day three – Cycle from Haltwhistle to Tynemouth, distance approx. 56 miles with around 850 metres of climbing.
If you have the time there are loads of places to stop and take in the Roman history today and it is well worth a visit to some of the fantastic remains of the wall or the museums en-route. Vindolanda, Housesteads and Chesters forts are high up on people's agenda's. Once you meet the river Tyne at Hexham it's pretty flat (just about) all the way to the coast and the cycling is mainly on well surfaced cycle paths as you cut a cross section through Newcastle. Following the river Tyne right to the end of Hadrian's Wall at the fort of Segedunum then on to the North Sea where you'll reach your destination at Tynemouth Priory in good time to celebrate your fantastic achievement. Then you can pick up your cars and head home straight away. Well done!